Behind The Mask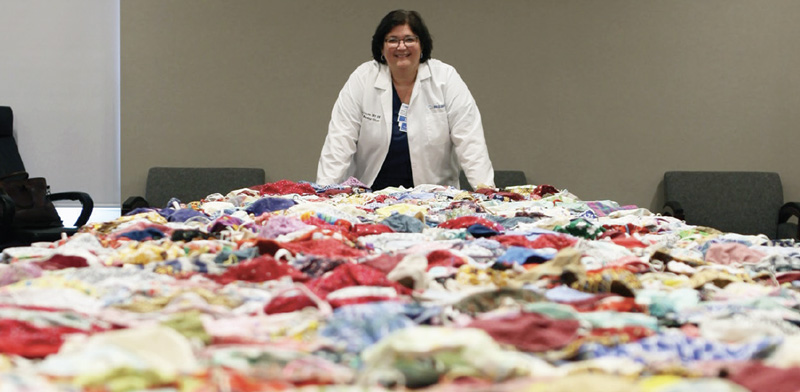 By Tracey Moro
In the 1960s Singer Sewing machines were at the height of their production.
Fast forward 50 plus years to 2020 and not every household has a sewing machine like back in the day, but for those who do sew many have been sharing their talent by making personal face masks.
At 81 years old, Carol Terrell of Clinton Township (my mom), using her Singer sewing machine she bought with money saved after college graduation in 1960, made more than 100 masks for family and friends. "I had all the material and elastic already," said Terrell. "I even made some sporting U of M logos, MSU and the Red Wings."
Carol was contacted by a friend who is a volunteer for McLaren Macomb Hospital. She then emailed her the pattern, but didn't need Carol's help since McLaren had an abundance of volunteers already.
McLaren Macomb had reached out to their 171 volunteers asking for help. "We purchased enough material for 500 masks," said Toya Aaron, volunteer coordinator at McLaren Macomb. "A staff member then posted on Facebook and it went viral. We have received almost 7,000 masks from our volunteers and many more volunteers within the community. The masks have been used on non-COVID-19 floors for staff and patients. It has helped out tremendously."
At Ascension St. John Hospital, Barb Cundy, of Macomb Township, works with cancer patients who are immune- compromised receiving radiation therapy. "We were quite worried for our patients," said Cundy who works at all four southeast Michigan locations. "I started making masks for our staff and patients, and my family and friends. I made an initial batch of 60 in one weekend, and was able to make about 2-3 masks a night after work while also taking care of my mom who has cancer. We were treating about 120 patients at that time and have a staff of about 37."
Since Barb works full time she enlisted some friends from Immanuel Lutheran Church to help out as well. Jan Williams, Emily Happell, and Michele Valicevic came to the rescue supplying enough masks for all her patients and staff within one week.
Sheila Brownlee, of Shelby Township, has been featured in Macomb Now before for her gardening skills, but her creative side also includes sewing. She began sewing at age seven. Later, while coaching cheerleading she opened Creative Customs Team Wear making custom-designed cheer uniforms and warm-up suits.

Following the stay-at-home orders, Sheila began making and donating masks right away. "It seemed like a perfect fit. I have made about 600 masks using only what I had in my sewing closet! We can all do something to help and once I figured out mine I just ran with it. I have sent masks to Nashville, Tampa, Houston, Dallas, St. Louis, many cities throughout Michigan as well as many local hospitals, nursing homes and cancer centers. It has kept me busy and feeling needed.
In Shelby Township, renowned Wedding Dress designer Katerina Bocci closed her business but she and her staff kept busy. "We made more than 3,000 masks. I worked with my daughters and one other seamstress," said Bocci. The masks were donated to places like Henry Ford Hospital Macomb and West Bloomfield, Homeless in Detroit, Beaumont, St. Mary's Church Orchard Lake, St. Paul Albanian Catholic Church, Detroit Police, West Bloomfield Police and nursing homes. She also had pharmacists and doctors who picked up from her business. "It was nonstop for six weeks."
Another business owner Krystal Wojtoviets, who owns The Laundry Room in St. Clair Shores, closed March 14 and didn't think twice about sewing masks. "I'm a seamstress and sewing is my second love after laundry (lol). I immediately began to take my equipment home to get busy. I was fortunate that I hoard fabric. I also have tools to produce large quantities fast because I sew for the U.S. Navy," said Wojtoviets. She then made a post on Facebook stating that she was supplying health care workers, police, fire and veterans with free face masks and selling to the public to offset the cost. "It was amazing! I was able to donate over 1,000 to those groups and also nursing homes and postal workers. I also gave away free ones to anyone who couldn't afford them. The community was so supportive as well. I had over 20 people drop off fabric and elastic!! It's like everyone was trying to help the cause."
Krystal is currently selling masks at The Laundry Room and still giving away free ones. "I love that feeling! I think every business owner is trying to adapt to the new norm to stay afloat. I will tell you that St Clair Shores is a great community and it really seemed like people were really coming together." Maureen Lietz, better known as Moe, began sewing at age five taught by her grandma and mom. "I learned how to make my own doll clothes by hand. Years of sewing crafts and items for myself lead me to Michigan State University where I got my Bachelor of Science in Apparel Design & Textiles," said Lietz.
Moe knew the need was great from her community of people through her nonprofit, Sparkle Network, which creates fundraisers with a twist.
Lietz took her spirit of giving and created a Facebook page – Masks for Michigan – which had immediate followers. She explained, "It's a spot that shares patterns, tips and hints. Agencies/organizations contacted to get masks through it. I have sewn 1,150 to date. Collectively, we all created more than 2,200 which went anywhere from individual wards of all major hospital systems, Oakland County Sheriff to entire nursing facilities," said Lietz.
And finally, even the young got involved. Kristen Munyan's daughter Mac, who is nine, was in the sewing club at Trinity Lutheran School in Utica. Since quarantine, mask-making has become an outlet for her. "She usually makes 40-60 per week and only makes masks as gifts. So far she has gifted about 250. She says it is her way of sharing God's love during this tough time." said Munyan.