Macomb Then – A Bear and A Bar
By Wayne Oehmke
This is the story of a bear, a bar and some Macomb County leaders. It all started back in the 1940s after Jacob Frank Theut had served a four-year term as Macomb County Sheriff. Theut was also a very successful businessman with several enterprises.
It was while Theut was sheriff, that he formed a business partnership with John E. Donahue Sr. named Donahue-Theut Investments and the two began a friendship that lasted the rest of their lives.
It was during that same time that Walter Kling purchased the building which now houses Goldie's Saloon on Romeo Plank Road south of 21 Mile Road, in what was then Waldenburg, where I grew up. The building had been constructed in 1874, and served as a toll house when Romeo Plank was indeed a plank road, a post office, dry goods store with a barber chair and a bar. It became a full-time bar in the 1940s, known then as Kling's Tavern, with family living quarters upstairs for Walt, his wife Eleanor, their sons Richard and Jim, and daughter, Mary Jane. The Kling and Oehmke families both attended Immanuel Lutheran Church, located just north of the bar. Walt even served me one of my first beers when I turned 21, back in the day.
Once out of office, Theut purchased a lodge on 290 acres on Batchawana Bay, in Canada. It was on a hunting trip there, that he and business partner, Donahue, ran across a bear cub whose mother had been shot by a local hunter. He and Donahue, smuggled "Batchawana Bill" back to the states in the trunk of their car.
They named the cub "Billy" and decided the bear would go home with Donahue to live in his basement. However, that idea didn't last long once his wife Evelyn grew tired of the bear eating her preserves in the fruit cellar. So, Billy went to live on Detective Leon Kandt's family farm, located on Romeo Plank across from Kling's Tavern.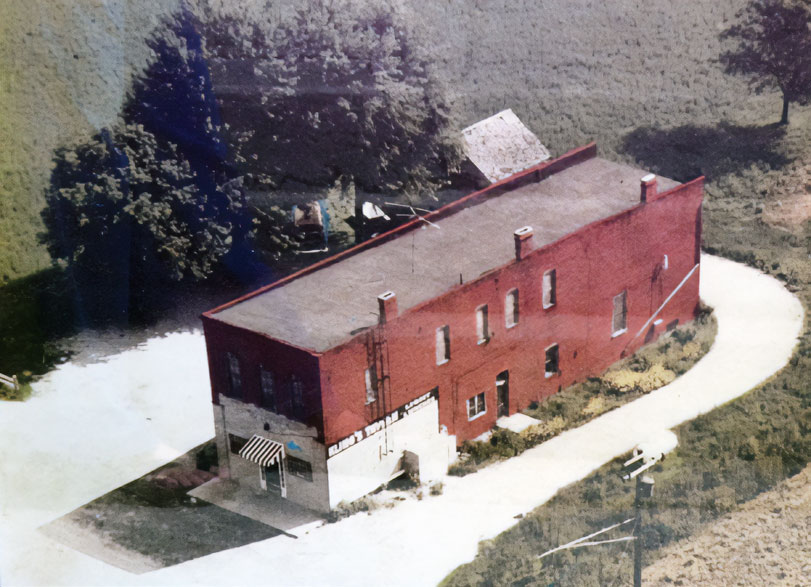 Billy lived contentedly and became somewhat of a local tourist attraction. You can see in the photo, Billy is climbing a ladder, while chained, standing next to a gentleman who we think is Leon Kandt. In the background you can see the bar through the barbed fence with the bottom portion of the building painted and three vehicles parked in front. Folks, including me, remember stopping by to see Billy consuming Coke, and other beverages, right out of the bottle. When Billy died 15 years later, Kandt placed an obituary for him in the Macomb Daily.
The Kling family would own and operate Kling's Tavern until 1977. Current owners and brothers, Mike and Matt Giroux, took over the business for their parents Claude and Josephine Giroux. Today Goldie's has a full menu of "bar food," with their best selling, and somewhat famous, grilled burgers and fish and chips dinners. And if you look through the old photos on the wall you may find this photo of Billy the bear who was once an attraction living across the street.
Photos Courtesy of Mike and Matt Grioux of Goldie's Saloon. The photo with the bear provided is a copy and therefore it is unknown who took the photo and when it was actually taken.