Baby Makes Three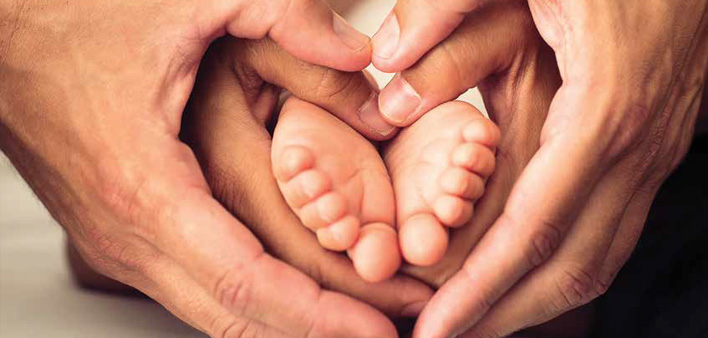 By Shelley Galasso Bonanno, M.A.
Becoming a new parent is an event often filled with anticipation and excitement. There are diapers to buy, bottles to feed and new responsibilities. But apart from the day-to-day added tasks a new baby brings to a relationship, new parents also undergo an array of emotional changes – changes that are not always anticipated, acknowledged, or openly discussed between partners or with others. Navigating your changing roles as parents may result in conflicts with your partner, some unexpected, as you adjust from being a family of two to a family of three.
Taking care of individual needs during this transition will likely prove more difficult, but making a concerted effort to take good care of yourself will increase your ability to fulfill your parental role in a healthy way. The better you feel, the more patience and energy you will have, and the more love you can give to your partner and new baby.
The birth of a child, while often a joyous event, can also be a very stressful time. Research shows that many couples feel less satisfied with their relationship after the birth of a baby, at least in the short-term but often for many years. Becoming a new parent is a tremendous transition for both parents. In the first few months of parenthood, it is normal for new parents to experience a great variety of emotions, both positive and negative. While having a baby is typically a joyous occasion, the stress and exhaustion to adjusting to new demands and schedules, including decreased sleep, can lead to stress, exhausting and overwhelming emotions, including frustration and sadness. Hormonal changes can also add to increased heightened emotions for new mothers.
As baby becomes the center of attention, time for communication between partners is likely to decrease. Making a concerted effort to nurture your relationship will require added effort. Having a dinner out or spending couple time together while the baby is sleeping can help strengthen your bond as a couple. Openly discussing your feelings with one another and offering each other support and affection during this transition can make it easier to cope. Taking time to understand each other's feelings and expectations, can help you to be more realistic and prepared for the ups and downs of parenthood.
Some parents are surprised how becoming a new parent can trigger unexpected feelings and memories, both positive and negative, about their own experiences as children and/ or unresolved feelings related to their own parents. It is not unusual for one parent to feel shut out or isolated, particularly if a stronger bond is perceived between one parent and the new baby. While feelings of anger, anxiety and depression are not unusual, if you find yourself feeling unable to effectively cope with your feelings, consider consulting your physician or meeting with a licensed psychotherapist. Despite the ups and downs, being a new parent is a once in a lifetime experience. The joy of becoming a new parent, despite adjustments and anticipated stress, will undoubtedly forever enrich the emotional lives of both parents.

A lifelong resident of Macomb County, Shelley Galasso Bonanno is a practicing limited licensed psychologist who completed her Master's degree at Wayne State University in 1987. She has a breadth of experience in working with adults, children and families. In addition to working in private practice, Bonanno performs consultative services for State and forensic agencies. Her writings have appeared in various online and print publications. An advocate for mental health, you can follow her on Twitter @shelley bonanno.