Art Raises Quality of Life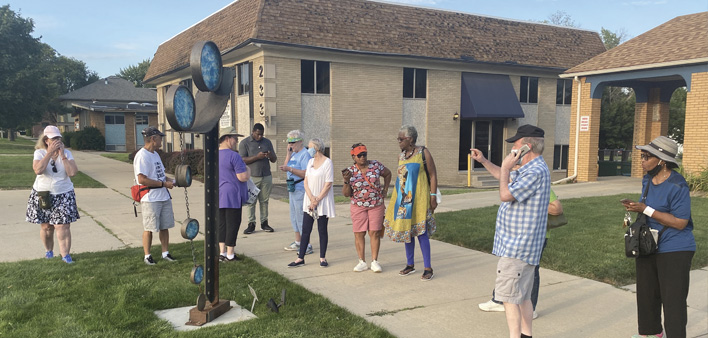 By Nick Lico
The Macomb Cultural and Economic Partnership (MCEP) believes that all vibrant communities should have art and that its presence can enhance the quality of life and the economic climate in a community. This is why in 2018 MCEP initiated a sculpture project in neighborhoods in the southern portion of Mount Clemens. From the original nine sculptures, this year's sculpture walk – which runs through the end of September – features 25 sculptures, mostly from Midwest artists. The sculpture walk started from a simple premise.
"Some of the neighbors felt that we could bring a better look to our neighborhood with the display of art and we landed on sculptures," said Ed Bruley, MCEP board secretary. Bruley said that reception to the sculpture walk has been very positive.
"We have people who go and do it on their own, or take their kids and follow the path. We have others who meet up as a group and do 2-3 sculptures and talk to the artists," he said, adding that once a month MCEP offers an organized event where attendees are able to speak with artists of four different sculptures. Times and dates for these events are available on the MCEP website.
As Bruley explained, the sculpture walk changes yearly. Individuals and MCEP have purchased some sculptures and they are always included. The rest are available only for a year. The benefits the sculpture walk provides Mount Clemens and the surrounding area are immeasurable.
"The sculpture walk is a thing of beauty; it adds something to the community. It's a good invitation for others to visit Mount Clemens and it's something to enjoy on a summer evening. It's a good physical and intellectual activity," Bruley added.
It also provides a financial benefit to businesses in Mount Clemens as visitors frequent establishments for food and refreshments after their walk. The sculptures are concentrated on or near Gratiot between Cass and just south of Wellington Crescent and many are situated near restaurants and shops.
Most of the sculptures are also available for purchase. Local businesses and the MCEP have raised $250,000 to cover the costs associated with the displays. Various levels of sponsorship are available and donations – all of which go toward sculpture rental fees – are tax deductible.
"We're always interested in expanding and in working with other neighborhoods and communities that would like to have a similar project," Bruley said.
If you are planning on taking the sculpture walk, be sure to follow Bruley's advice: "Take your time.
Truly take in each sculpture and how it adds to the ambiance of the whole community. Make multiple visits and grab a carryout from local restaurants. Part of the carryout fee goes toward new sculptures."
Further adding to the ambiance are the number of micro gardens that have popped up near some of the displays. They are tended by volunteers who commit to a minimal number of hours per week. If necessary, MCEP can provide garden tools, soil and flowers. A little effort can go a long way toward adding more beauty to our area.
Visit mcepmacomb.com for more information, including a map of the sculpture walk and to volunteer for cultivating a micro garden.