Are Your Ducks in a Row?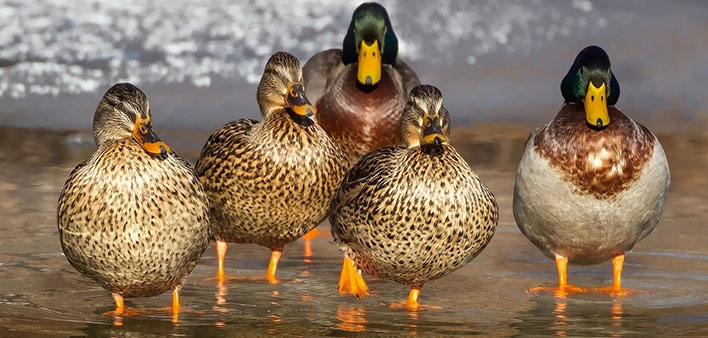 By Rebecca Calappi
Some topics are naturally more difficult to discuss than others: planning for the future, end-of-life care, why the Lions still have fans, the list goes on.
While everyone should have a plan in place for financial emergencies, sickness, old age and final arrangements, many don't, and the reason is simple. It makes people uncomfortable. And it's not just trying to avoid talking about end-of-life, it's also that many people don't want to talk about finances with their adult children.
"Some people don't want to talk about it at all, and that's ok, but we need that kid, that power of attorney, to be part of the plan. It's important to get them involved at some point in time in the planning process," said Pat Simasko, owner of Simasko Law, a firm that specializes in elder law.
"My advice is to never do tomorrow what you can do today. Procrastination is the thief of time," said renowned author Charles Dickens. And even today, 200 years later, that quote is as profound as ever.
When planning for the future, there are plenty of things to consider: wills, revocable trusts, irrevocable trusts, estates, power of attorney, pensions, insurance.
Frankly, it's overwhelming.
That's why it's important to have family, a trusted friend, an attorney or a financial advisor who can help navigate through the paperwork and planning.
"The earlier you come in, the better plan we can implement," explained Simasko. "For young people, you want to come in because you have minor children. But as you get older, the focus shifts to, 'Let's put our ducks in a row.' Usually around retirement age is when you start looking. Your plans flow from your kids to protecting your assets from nursing homes and probate."
The idea is to put money away, so it doesn't get drained by long-term care facilities, medical bills or other extraordinary events. "It's tools in the toolbox. It's a will, revocable trust and an irrevocable trust. These can protect from the nursing home and probate," said Simasko.
There are several options for protecting your retirement or life savings as you age. One is a trust. "A trust is its own entity," said Vincenzo Manzella, managing partner, Lucido & Manzella, P.C. "A revocable trust means you can make changes while you're alive, you are in charge. It has its own tax ID number and it allows you to layout a roadmap."
Manzella went on to explain, "Most of the time, you put in your trust your home, bank accounts, stock, life insurance. The trust can grow over time. You are in control from the grave, you just have to lay it all out there."
Creating a roadmap for your assets can help stem any disagreements that might pop up far in the future, and it gives the holder peace of mind that things will happen the way they want.
"The best thing to have is a trust because you avoid probate," said Manzella. "The probate court oversight comes with an expense. It's more up-front cost with a trust, but it's more user friendly. If you're not going to have a trust, have a will."
A will, according to Manzella, takes care of that one moment in time when you pass away. "It tells the world what you want to do with your stuff," he said. "In Michigan, it's a personal representative, who is in charge of your estate. You have to go through probate, with the checks and balances to make sure they're doing it appropriately."
"It's best to talk about financial arrangements when no one is sick," said Manzella. "You certainly don't want them to get the guilt associated with those types of decisions when it's not talked about. The bottom line is, all these things should be discussed when no one is sick because there's going to be someone who will complain later. At the end of the day, everyone needs an estate plan. It's just no one wants to talk about it," explained Manzella.
Matthew Swegles, senior vice president of investments, Raymond James, agrees. "The older you get, the more important it is to share that plan with family. A lot of times we have clients write a letter explaining what they did and why. Some clients don't want to share the information, but make the list, put it in the safe deposit box and tell the bank they're the successor."
Saving for Retirement and Beyond
Ralph Koss is senior vice president of Investments for Raymond James. He's been a financial advisor more than 25 years. "Be prepared to live without a pension," said Koss. "We're going to have to save for our own retirement. Understand what you're going to need to live on in retirement and know your number—everyone's number is different.
Retirement planning is a lot more than just a pie-in-the-sky dollar amount you think you'll need. When planning retirement, think about retirement age, average life span, debt, including monthly bills, savings, quality of life and more.
"When should you start saving? Yesterday," said Swegles. "It used to be '30 and out.' Now it's 'out and 30.' Think about 30 years without a paycheck."
To get started, a financial planner or trusted banker can help point out the right direction.
"There's not a guaranteed way, but what you need is a developed plan," advises Amy Persyn, marketing director, first vice president, First State Bank. "To pay everyday bills, make sure you have a checking account that works for you. You want to fund it enough so you don't have to worry about overdrafts.
"Then your next step is your savings," continued Persyn. "What most people don't do is create an emergency savings. So, they end up accessing their long-term savings."
Swegles concurs. "I often dissuade them from hitting a magic number. Each plan is going to be different based on the goals of that person. Those generalities are going to get some folks in trouble," he said. "We work specific to the client. We write the plan from the get-go and then we check in on that progress and make adjustments along the way."
"…in this world nothing can be said to be certain, except death and taxes." Benjamin Franklin said it, and it's the hard truth.
While inevitable, perhaps the most unsettling aspect of planning for the future is pre-planning a funeral. But, at the end of a life, family and friends are numb and grieving. One of the best gifts a person can give is to have those funeral arrangements in place.
Sarah Lee, owner, Lee Ellena Funeral Home, advises pre-planning. "It's very much like planning a wedding. What do you envision to be this rite of passage? What message do you want to give? Preplanning a funeral is the missing piece in the portfolio. We have to figure out the practical. The main thing is getting educated."
Funeral directors can help guide individuals find the most appropriate service, help decide what is to be done with the body and even work on choosing any merchandise for final arrangements. "You can pay up front, or on time. It's in your investment portfolio. When you die, the family has the contract, and everything is put into place," said Lee.
Still uncomfortable? Think of it like Lee, "For the people who did plan, it is great for the people who are there. It's kind of like their light and energy are around them."
It's only uncomfortable if you make it that way.
When it comes to planning for the future, it's important to think practically first, emotionally second. By having a plan in place, the documents to support it and the person to execute it when it's time, you're giving your family, and yourself, a great gift.
Swegles sums it up, "I try my best to hit the parents with the fact that at some point, all of your kids are going to know how it transpired. What can you do now to help them get along after you're gone?"