Anglers on Ice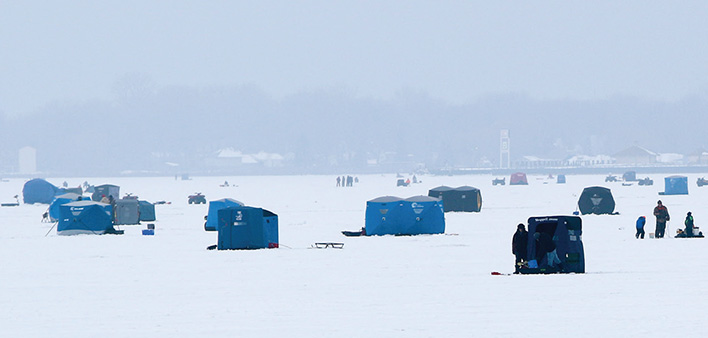 By Rebecca Calappi/Photography by Anne Nicolazzo
On a cold winter day, ice shanties dot the horizon on Lake St. Clair. Pop-up shanties are easy to drag across the ice until fishermen find the perfect spot.
Danny Sawicki, 58, of Roseville, has been one of those fishermen for the last 53 years. He grew up in St. Clair Shores and spent the winters, and summers, fishing with his dad.
"I like the tranquility," Sawicki said. "You can basically be on your own, unless you catch a fish. You can find spots where there's nobody around. I've always been an outdoors person."
John Bacarella owns two fishing stores, Sportsmen's Direct. One is in Harrison Twp., and the other is in Chesterfield. He says shanties are different than when he was a kid in the permanent shelters.
"The person can have all their gear in the sled base. They can unload it, fold it over them, and not only are they out of the elements, you can see through the water and see the fish," said Bacarella. "Once the lake covers with ice, it's almost like watching fish TV. It's very different than open water fishing."
Some anglers just bring a bucket, spud bar, lure and pole. It's not complicated. The peacefulness and ease of the sport combined with the satisfaction of catching a fresh fish dinner are irresistible to many sportsmen.
Bacarella says winter is by far the busiest time of year at his stores because so many seasonal workers are laid off and enjoy fishing every day.
"You need to cut a hole in the ice with a spud bar or an auger," said Bacarella as he explained the equipment needed for ice fishing. "Get a small fishing rod and a lot of guys use live bait. They use minnows like they do in the summer, or a lot of guys downsize with different forms of fly larvae."
Tim Muir is president of the Lake St. Clair Walleye Association. Ice fishing has an effect on his mind. "To me, it's a huge mental health benefit. You get out of the house, get away from the electronics—being outside and catching a good perch dinner," he said.
Angus Giles, 33, agrees. "It gives you something to do during the winter time. If you like fishing, you can stay fishing," he said. "It gives you access to other parts of the lake. You can really explore."
Giles, a St. Clair Shores resident, mostly fishes in harbors and marinas close to home.
"It's a challenge," Giles said. "You constantly have to adapt and learn. You can gain a mastery of the sport but there's always variables you have to take into account. One day is not going to be the same as the next."
While ice fishing is a great way to get outside in the winter, the most important thing to consider is safety. Jeremiah Schiessel, ENS, Incident Management Division/ public affairs officer for the U.S. Coast Guard Sector Detroit, advises ice fishing with caution.
He said the U.S. Coast Guard averages 88 ice rescues in the area each year.
"One major concern is the weather, specifically the air temperature," explained Schiessel. "The fact that a body of water is still frozen can be deceptive if the air temperature is above 32 degrees and the water under the ice is warming. Toward the end of last year's ice season, we had a mass rescue situation. A massive ice floe broke off and started drifting due to warming temps, which caused hundreds of anglers to scramble toward shore, some falling in the water. Ice that is near, or over moving water such as a river, is too weak to be on."
When Giles fishes with his friends, they have a safety plan as well.
"Safety is paramount," he said. "I don't like to go by myself in case I do fall through the ice. My fishing buddies and I have rescue plans. We usually carry a personal flotation device. I also keep a dry bag with warming layers and a rain suit, so whoever falls through can get dry right away."
According to Muir, "Wearing a life jacket on the ice is becoming more and more popular. Also, special suits that have a life jacket built in," he explained.
But perhaps no one knows the benefits of safety better than Sawicki. A few years ago, he fell through the ice and was in the water for more than 20 minutes.
"I was off the Salt River. I took a left, which was the Clinton River. I made a lot of mistakes that day," he recalled.
Luckily, Sawicki had a friend with him who called for help.
With plans in place and dressed appropriately, most ice fishermen access Lake St. Clair either at Selfridge Air National Guard Base or at Lake St. Clair Metropark. Before hitting the ice, they stop for bait and check in to see how thick the ice is. "With everyone coming in and out, it would be hard not to know what's going on," said Bacarella. He even has a YouTube channel where he gives a weekly ice fishing report.
The busy season starts around December and can linger into March. "Normally, we're on the southern edge of the ice belt, so around Christmas or Jan. 1, is when we get lake ice. Sometime between Thanksgiving and Christmas the guys will be able to step on first ice."
More than half of a century of experience has taught Sawicki the primo places to enter the lake. "The best way to access the lake is the DNR ramps, especially at Selfridge," said Sawicki. "You just go down the boat ramp as long as the ice is good, then you venture out."
While most sportsmen enjoy the peace of the lake and the satisfaction of catching a fish, Giles points out it's not all zen. "You can see a couple of feet down into the hole. It can be really rewarding and really frustrating at the same it," he said. "If the fish don't like what they see or how you're presenting it, they'll just stare at it."