All Aboard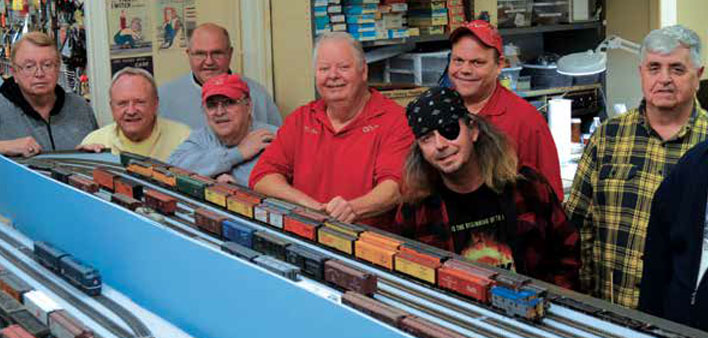 By Nick Lico
In a nondescript building in Mount Clemens, nestled among Mom and Pop stores and within a stone's throw of historic buildings, sits the Gratiot Valley Railroad. Don't worry, it won't hold you up as you make your way to and from our county seat. It will, however, leave you in awe if you are fortunate enough to experience it for yourself.
As you may have guessed, this is not a fullsize railroad. It is, however, the dream – some will say fantasy – of everyone passionate about model railroads.
"We incorporated over 40 years ago, but the roots of the Gratiot Valley Railroad go back even further. It was started by six original members who met at each other's home," explained Mike Jacobs, Gratiot Valley Railroad (GVR) president.
Show up on a Monday night (6-10 p.m.) and you'll be struck by the level of detail in the layout that measures bigger than 450 feet. This isn't a model train layout slapped together. It's a work of love by people who are truly passionate and committed to creating a realistic setting.
"We've set up everything to be in the 1940s and 1950s and you'll notice that nearly everything: the trains, vehicles, buildings, even people, are in fitting with that timeframe," Jacobs explained.
The layout itself is a loose interpretation of our area. Bruce Hollow, Old Haven and Warren are just a few of the locations. For visual effect, the layout also includes mountains, trestles, waterfronts, towns, rural areas and much more. Their scale in relation to the trains is amazing and worthy of praise.
If you think this is strictly a place for boys who refused to grow up, think again.
"We are a teaching club. We teach visitors about model railroading, such as creating scenery and programming locomotives. We also work with Boy Scouts to help them earn their Railroad Merit Badges," Jacobs explained.
While memberships to GVR are available, guests are welcome to visit and appreciate the intricacies of the layout. If you go, see how many "special characters" you find within the layout. They're good for a chuckle.
And if you have model train items you wish to purchase or sell, be sure to check out the organization's annual Show and Sale, which usually takes place the first week in November at Gibraltar Trade Center. (Sorry you'll have to wait until next year.) As Jacobs explained, it's a great opportunity for vendors to sell their products and for enthusiasts to enhance their current selection.
For more information, visit gvr.org.