Alan J. Groesbeck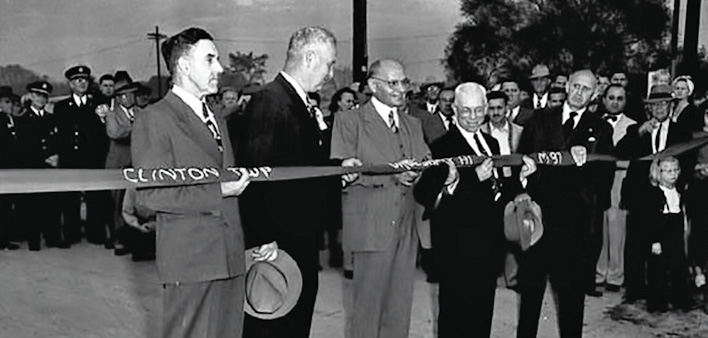 The more things change, the more things stay the same.
Before the 1920s, most Michigan roads were nothing more than dirt and gravel. Even new roads back then soon became near impassable in the spring due to rain and cold weather damage. Again, the more things change, the more they stay the same. However, Michigan's governor between 1921 and 1927, had a vision that he believed would revolutionize automobile travel. His name was Alex J. Groesbeck.
Alex J. Groesbeck epitomized "Home Grown in Macomb." He was born in Warren Township, attended school in Mount Clemens, graduated with a law degree from the University of Michigan, and worked as a lawyer in Detroit and Macomb County before becoming Attorney General and later the Governor. During his tenure as governor he was a strong supporter for revamping major roads in Michigan and to "take Michigan out of the Mud." He also advocated for school of choice, prison reform, and government consolidation.
Before the 1920s, roads were funded by private companies who in the end wanted people to buy more automobiles and auto parts. Governor Groesbeck saw how ineffective that was and instituted a two cents per gallon gas tax. He also established an automobile tax based on weight and not horsepower. He claimed roads should be paid by those that use them and taxes such as property tax should not. With the gas tax and new fees, Michigan became the fi rst state to use concrete. Governor Groesbeck felt gravel and asphalt were inferior products and were not long term solutions to quality roads.
The photo above was published in The Daily Monitor-Leader in 1949. It shows the ribbon-cutting ceremony to open Groesbeck Highway, held in Mount Clemens at the intersection of Groesbeck and Cass Avenue. Also designated M-97, the highway had been started in the 1920s but came to a dead end south of Mount Clemens. Years later it was fi nally completed to Hall Road. Pictured from left to right is Paul Stepnitz, Clinton Township supervisor, Albert A. Wagner, mayor of Mount Clemens, former Michigan Governor Alex J. Groesbeck, Charles M. Ziegler, state highway commissioner, and Edwin G. Schwoppe, district engineer for the highway department.
Photo courtesy of The Macomb Daily.