A Yoga for Everyone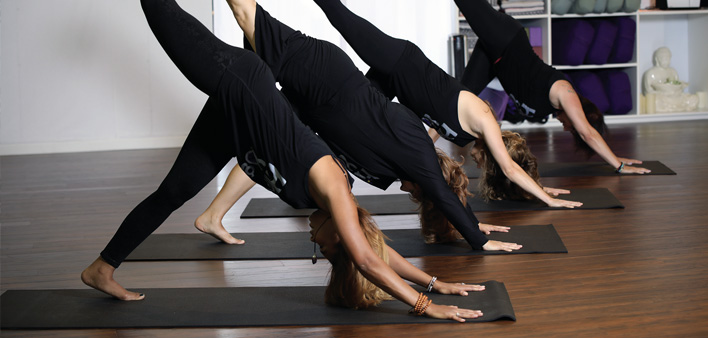 By April Estrada / Photography by Kelly Hughes
"Let's start with breathing in, slowly." That is what you will hear when beginning a yoga class, which could be the best thing you do for yourself, your overall health, your fitness program and your mental being.
In a yoga class you move through a set of poses or exercises, while incorporating mindfulness, breathing techniques and relaxation. All yoga classes will incorporate these elements and there are many styles of yoga you can practice.
Styles can range from very athletic and challenging to slow and relaxing. Ashtanga, vinyasa, flow or hot yoga challenge your physical abilities. They may move faster, build strength and "flow" from pose to pose almost like a dance. Hatha, basic or Iyengar yoga styles, focus on aligning the body, moving mindfully, and taking your time getting in and out of yoga poses. Yin and restorative yoga are introspective types of practice. Lingering in the poses, breathing and exploring internal shift are the focus of these styles.
Yoga can also be practiced in a chair, wrapped in silk hanging from the ceiling or with animals. Goat yoga is a real thing. A yoga studio is not the only place to find a yoga class. There are just as many places to practice yoga as there are styles of yoga. You can find a yoga class in most gyms, community centers, in a park, the beach, or a local brewery. You can even do yoga online from the comfort of your own house.
Having so many options of places and styles to practice yoga makes it accessible for almost everyone to reap the benefits of yoga. There are a ton of benefits to incorporating yoga into a healthy lifestyle, including both physical and mental.
Improved bone health. Yoga is a weight-bearing activity. This can increase bone density and may reverse bone loss associated with osteoporosis.
Better balance. Good balance not only helps in a yoga class but also can help you with everyday movements like, grabbing something off a shelf, picking something off the floor or catching yourself when you slip.
Mobility. In a yoga class you will move in many positions and directions. This helps keep your joints lubricated and hydrated so you can move with greater ease.
Stress Reduction. Yoga incorporates mindful practices and breathing techniques that help lower stress levels and can even include lessening the symptoms of anxiety and depression.
Improved brain function. Some studies have found practicing yoga activated areas of the brain responsible for motivation, executive functioning, attention, and neuroplasticity.
The benefits of yoga can be felt no matter how often you practice, where you practice or which style you chose. So no matter if you're in a class at the gym once a week, everyday or you give it a try at the brewery only once, you will feel better at the end of class. Namaste.
April Estrada, ERYT 500, has been practicing yoga for over 25 years and teaching for 10 years. She also has led numerous 200-hour yoga teacher trainings and is owner of Hippie Yoga in St. Clair Shores.