A Second Home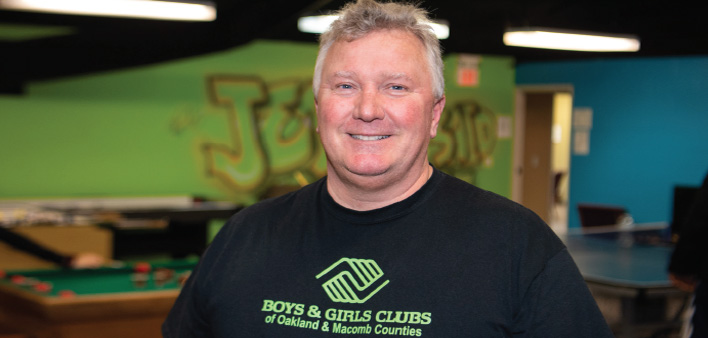 By Nick Lico
A safe place to learn and grow. Ongoing relationships with caring, adult professionals. Life-enhancing and character-building programs. Experiences that foster hope and opportunity. That's what children who attend the Stanley Ian Babinski Boys & Girls Club in Washington Township experience.
Founded in memory of Stanley Ian Babinski, the son of club alumnus Stan Babinski, the club provides that other safe place for kids to be. For many, it's their second home.
"I started the club in December 2011 in memory of my son who passed away from cancer. I saw what he had to persevere through. I wanted to do something for the community because I recognized the need for some after-school programs," said Stan Babinski.
Like all other Boys & Girls Clubs in the United States, Babinski and his volunteers focus on the pillars of Trust, Environment, Academic and Career, Character and Leadership, and Health and Wellness (TEACH). The organization emphasizes 21st century skills such as communication, collaboration, creativity and critical thinking. These are essential skills that help club members succeed in their educational and career goals.
"We work with kids to help them get their homework done and help them develop character and leadership skills. We also encourage healthy lifestyles by exposing them to different sports and healthy activities," Babinski added.
Babinski explained that club members spend the first 45 minutes to an hour focusing on their homework. "We focus on the STEAM educational approach to learning (Science, Technology, Engineering, the Arts and Mathematics). We typically have one or two volunteers helping us each day and we try to match them up with the kids' needs," he said.
"To me, the club means happiness," said Ann Brede, a senior at Romeo High School and a club member. "I've never been to a place with a better environment than this club. Everyone is accepting and caring and there are always positive attitudes surrounding you. You always feel accepted by the staff and there are people to guide through whatever you need to help you."
"We're here to help all young people succeed. Kids are kids and they face all kinds of issues, including some that those of us from a previous generation never had to face," Babinski said. "No area should be without a Boys & Girls Club. It provides reassurance that things will be okay and that they can succeed in their lives."
"What makes this and all Boys & Girls Clubs successful is the laser-focus to deliver programs that shape our kids' future," said Brett Tillander, CEO, Boys & Girls Clubs of Oakland and Macomb counties. "It's heartwarming to see Stan and his volunteers take an active role in serving kids who need it most."
Housed within the Stoney Creek Community Church at the corner of 26 Mile Road and Jewell, the club is open 2:00 p.m. to 6:00 p.m. Monday-Friday during the school year and noon to 6:00 p.m. during school half days. Summer hours are Monday-Friday noon to 4:00 p.m. The club is closed if Romeo Public Schools are closed due to inclement weather. Children ages 6-18 are welcome and club membership is $50 annually; scholarships are available for families in need.
Club applications are available online or may be picked up in person. As with any nonprofit organization, the Boys & Girls Club is in dire need of volunteers and donations.
"We're especially in need of volunteers who have a skill or trade that's a lost art. For example, a recent volunteer provided sewing classes over the summer. The session was very well received," Babinski said. The club is also looking for businesspersons who can expose students to what they do by conducting tours at their place of business and donations are always welcome.
"If a dollar is all you can spare, we'll take it. If you can spare a million dollars, even better. We run very lean to ensure the money we receive is spent on the kids and the programs we offer," Babinski said.
For more information, visit boysandgirlsclubs.us/our-locations/stanley-ian-babinski-washington-twp-unit