A School of Bricks – 1909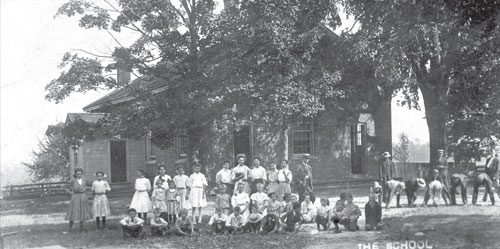 By Linda Osborne Cynowa
The school in Washington Township came into being as early as 1824 when a log schoolhouse was built. It would soon be the center of Washington's community social life, holding town meetings, and dances where the townspeople would gather. The first known teacher was Miss Emeline Allen, but she left before the first winter and Issac Andrus, brother of Elon Andrus, became the teacher. Miss Allen returned in the summer of 1825, but due to the rigorous winters in the drafty schoolhouse, Mr. Andrus was the teacher the following winter. Though the teachers changed from year to year, the students stayed and between planting, plowing and harvesting, they tried to get their education.
By 1839 the little log schoolhouse was badly sagging. It needed rechinking and the logs close to the ground were deteriorating. It was decided to replace the schoolhouse instead of repair it. A new site was chosen, opposite the Andrus house, and a frame schoolhouse was built. Union schools were organized in 1862, when Washington was combined with part of Shelby Township and known as 'School District No. 12 Fractional.' The improvements of union schools were not immediate. D.B. Briggs, superintendent of the Macomb County Schools in 1867, stated "It is painful to report, that in so old, populous and wealthy a county as this, so few attractive school buildings can be found."
Washington's first brick school was erected on the site of today's Washington Historical Society Museum still stands. It is not known exactly what year the building was completed. Two rooms were meant to accommodate a growing student population. This brick school was to have stood as a lasting reminder of the new area's dedication to education, but images from 1885 show a building becoming rundown already. It was remembered that the two room brick schoolhouse had one room for the upper grades and the other for the lower grades. The larger of the two rooms had two wood stoves for heat in the winter, with the small room having only one. Miss Hall, the teacher at the time, would get a young boy to come in early before school and start the fires, but the rooms were never very warm, untill it was time to go home.
The students in the photograph above were attending the Washington School in 1909. Many are lining up for the picture taking event, and others continue their ball game, in spite of the photographer catching a moment in time. The teacher standing with a book in hand is Hettie M. Taylor; the principal is Joseph Schnitzler. By 1917 a new and larger building would replace Washington's first brick schoolhouse.
Linda Osborne Cynowa is a local writer who recently published the book Farming In Northern Macomb County. Photo courtesy of the Greater Washington Area Historical Society, Through These Doors, and a History of Romeo Community Schools by Elizabeth Kane Buzzelli, and Arcadia's Images of America, Washington Township.