A Real Life Doll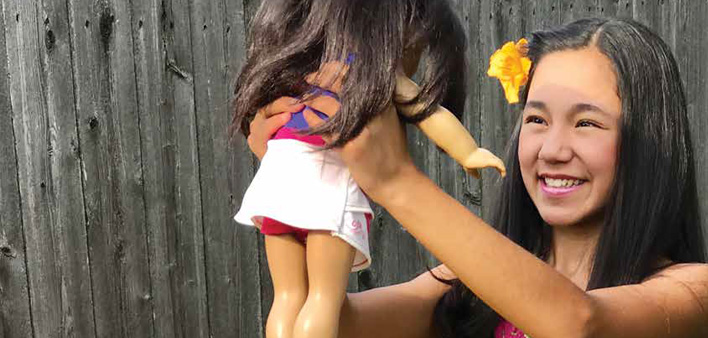 By Tracey Moro

A young model from Macomb County is gracing the cover of three American Girl books this fall as she represents Nanea Mitchell, the new American Girl Hawaiian doll. That's right, Alyea, 13, is the face behind the new doll introduced in August. The new BeForever doll, went on sale in late August and can now be purchased online and in American Girl stores.
Alyea and her mother kept a big secret for many months once she was cast for Nanea Mitchell a year ago. "We had to keep it undercover until the doll release in August," said Lynda Rourke, Alyea's mother. They flew to Wisconsin for the photo shoots of the three book covers where Alyea shows off her natural Hawaiian look.
The story behind the doll revolves around a nine-year-old girl growing up in Hawaii in 1941 who works to help and heal during a time of war. Although Alyea doesn't know what it was like during the attack of Japan on Pearl Harbor, she does know how to smile in front of a camera and is getting better at it every day.
Modeling comes easy to this beauty with more than 10 years experience at it now. Once on the cover of Metro Parent Magazine, Alyea has recently been modeling tween clothing for Justice Company, where you can see her sporting styles online on ecommerce sites and on in-store display signage. You may even remember her from the 2015 Fall edition of Macomb Now Magazine when we featured back-to-school clothing.
Beyond modeling, Alyea has taken piano, tap, ballet and acting classes and has appeared in commercials for companies like Pure Michigan, Chevy, United Way, Ally Financial, Blue Cross Blue Shield, Children's Hospital and Children's Miracle Network. "My once shy little girl has now come out of her shell, that's for sure," claims Rourke. She's always excited to be in front of a camera. She has fun."
Alyea continues to audition whenever the opportunity presents itself including right before this interview where she was an extra in the IMDb film United Colors of Bennett Song. This year she had the supporting role in the 2017 IMDb film Year Zero where she played the daughter of a man trying to find his family in the land of Cambodia in the 70s during the Khmer Rouge genocide. "When she cried in one scene, everyone on set applauded for her. We had been working well into the night already, so her tears were very believable," said Rourke.
Alyea is also a competitive figure skater, spending 15 hours a week at the rink training. She attends Virtual Learning Online Academy and has aspirations to go to medical school, be a skate coach and even direct a movie. "I think it would be fun to live in L.A. and of course I want to visit Hawaii," she said. "Always believe in yourself, take one day at a time, be kind and cherish every moment."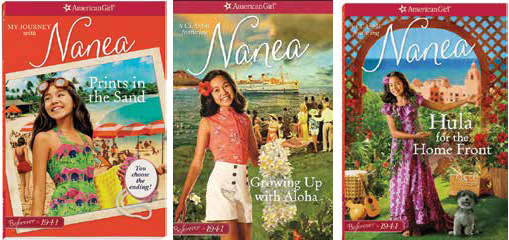 As any mom can imagine, managing Alyea's schedule can sometimes be as busy as a three ring circus. "Our days are busy from morning till night and our car doubles as a wardrobe chest. Often a suitcase and any items we might need at the last minute are along for the journey." said Rourke. "There are many days where we'll leave for a shoot at 5 am and not return till 10 p.m., but we cherish the time together and make the most of every experience. Some of your most heart-to-heart conversations can take place while traveling."
All American Girl products are trademarked with American Girl.