A Lifetime of Creating Memories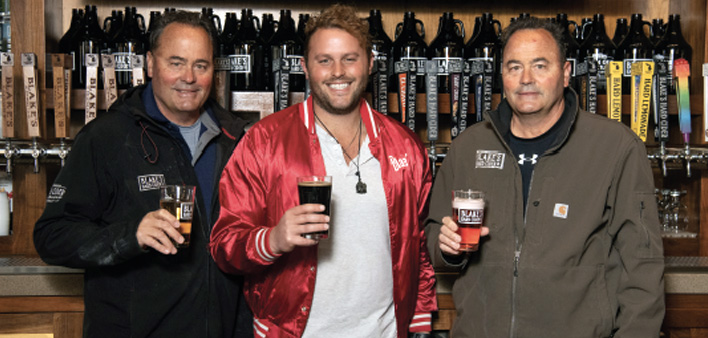 By Rebecca Calappi/Photography by Mike Ferdinande
Gerald Blake had a dream. A tool and die man for Chrylser in the 1940s, his heart wasn't in it. He wanted to farm. In 1946, he and his wife, Elisabeth, acted on his dream and bought a small farm on Armada Center Road. Gerald continued to commute to Detroit until 1970, when he built a cider mill and was able to fi nancially support the Blake family—husband, wife and 13 kids.
In 1981, the Blake's farm was 160 acres. Peter and Paul Blake had just graduated from Michigan State University with degrees in agricultural engineering and they joined their brother, Raymond, as partners in the family business. Raymond passed away 20 years ago, leaving the twin brothers to run Blake's Orchards together.
Today, the farm covers 1,000 acres in Armada. A sprawling children's play area, hard cider business, wine tasting room, restaurant and more complement the U-pick experience that made the place famous decades ago.
"We want to expand our U-pick operation of the farm," said Peter Blake. "There's a huge rebirth of people coming out to the farm and having farm experiences. Last year really showed the interest of our customer."
To support the expansion, this year Blake's is planting 3,000 new apple trees and even more Christmas trees. U-pick at the farm starts with strawberries and fl ows into cherries, lavender, raspberries, tomatoes, sunfl owers, apples, pears, a variety of vegetables and pumpkins.
"It's who we are and allows a lot of spin off," said Peter. "We have 50 years of experience, including trial and error, and we're willing to work hard. We have a real love and interest to do it."
In 2013, Andrew Blake, Paul's son and president of Blake Family of Companies, branched out the family business further and founded Blake's Hard Cider Co.
"It [Blake's Hard Cider] came out of necessity. We were an over-producer of apples, so this gives value added to the apples we were already growing," explained Paul Blake.
"We've always been willing to look at any idea and opportunity," explained Andrew. "I'm fortunate to have a dad and uncle who consider any idea. As much as anything, we timed that well. We have the heritage, background and authenticity to grow. We're in 20 states now with a plan to be a fully national in the next few years. We're really excited to be a household name, and we're the fastest-growing cider company in the nation and the 98th largest."
But the first expansion of the Blake's name was in 1984, when they opened Blake's Big Apple on North Avenue.
"That started getting us into animal petting farm for diversifi cation and to give families the opportunity to try something new," said Paul Blake.
School field trips soon followed, turning the Blake's farm into a seven-day operation. The need to diversify and provide new experiences also birthed the Lavender Festival in July, Cider Dayze late August and Sunfl ower Festival on Labor day weekend amongst others events. Now, they employ more than 800 people in a variety of seasonal jobs.
Even though they have so many on the payroll, they're still very much a family-owned business.
Peter, Paul and Andrew all recall starting to work on the family farm by age 5. Peter and Paul, now 62, remember picking apples and sweet corn as children. Additionally, Andrew's mother works full time in the office, as does a brother. In the busy season, the whole family is known to pitch in, making family a pride point for the Blakes.
"I think the Blake family, with the traditions that go so deep, are unlike any others, the values and hard work ethics we have. That's probably the greatest asset we have. And frankly, we're pretty humble," said Paul.
Peter agreed, "Part of it is the measure of success isn't about the 20 states or the success as a company, it's creating something good and positive that seems to be heading in the right direction. The feeling of accomplishment. Whether it's family, business or community success or friendships."
As the world becomes more and more digital, the Blakes plan to keep offering something the internet can't: hands-on experiences.
"I think the platform the business has now is really instilled in values that are genuinely good," said Andrew. "Making memories is always in season. That's really at the heart of everything we do. We're really just trying to create experiences for everyone to enjoy. I'm very proud we've worked as hard as we could to create that canvas. As the world goes digital, I think there's going to be a return to nature and we'll be facilitators of that experience."
On June 4, Blake's will celebrate National Doughnut Day with free cider and doughnuts. The day will be fi lled with rollback prices on cider mill treats, a free fireworks display at the farm and a contest to become a Blake's VIP for a year. All are welcome to share in the fun. Additionally, Blake's Hard Cider is introducing a commemorative Apple Pie Hard Cider to pay tribute to Blake's apple orchard roots.
To show the company's commitment to education, Blake's will launch The Blake Community Scholarship Fund, which will provide $50,000 in scholarships over the next 10 years to Macomb County students planning to study agriculture or the skilled trades.