A Home Workout Plan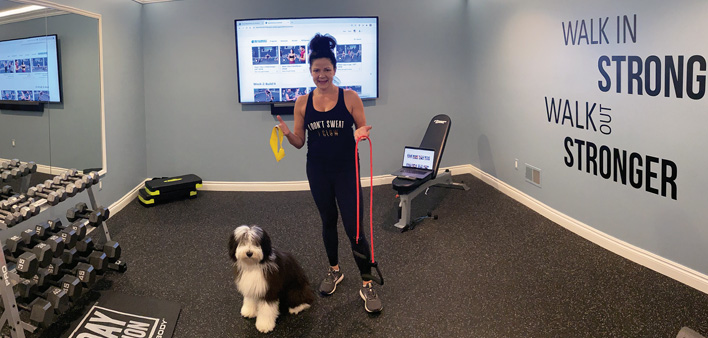 By Rosanne Wilkinson PA-C, AT, CNC
"You can't get results from working out at home." Sound familiar? Well, that's simply is not true. At-home fitness has not only been around for years, but due to the current pandemic, it has skyrocketed in attendance and popularity. More and more at-home workouts are now available online bringing a workout coach into your home as often as you want. So why not make it easy on yourself and workout at home?
At the end of the day, health, fitness and lifelong sustainable weight loss comes down to three critical factors – consistency, accountability and nutrition. Consistency is by far the most difficult to achieve. Studies show that noticeable results can be achieved by participating in regular physical exercise for only 20-30 minutes daily. Yes, daily is the key and the top reason why at home workouts make it easier to achieve your goal of staying healthy and fit.
Having a plan and a program to follow from home is critical. Our body is like a machine. You need to strategically work each body part throughout the week. Alternating body parts allows for those muscles to rest and replenish while you work on the next muscle group, keeping your machine in good running order. An online workout program can guide you through this process.
Currently, there are three top home fitness programs trending. First is Peloton the popular, mostly cardio-driven, stationary bicycle. If you love to ride and want the experience of riding with the group through their online subscription, this program works well. They also offer treadmill training and you can add additional workout classes as well but it can be costly. For approximately $3,000 per year you get a subscription and equipment.
Next is the Mirror. It has more variety of workouts, from low impact to high, yoga to weights; however, it also lacks portability. The Mirror can be expensive at approximately $1,500 but you can choose monthly programs that are more affordable. Plus, there's the ability to add a professional trainer and to share programs with family members. Online classes are on demand through a subscription or streamed live where you are interacting with others, bringing the real-time class into your home.
Third is Beachbody On Demand, which offers 24/7 fitness with more than 500 types of programs, streamed anywhere, anytime from your phone, laptop or smart TV, meaning you can take your workout on vacation. Beachbody also includes nutrition programs, weekly meal plans and virtual accountability from your own coach. The big plus is it's affordable – running under $200 a year including your first challenge package plus your yearly ($99) subscription. Having the ability to follow a program daily or mix it up as you see fit allows variety, helping you to be consistent.
Staying accountable with your fitness and nutrition helps ensure success during your health and fitness journey. When you break it down, you have to show up for yourself. Every. Single. Day. Being at home with an online program you enjoy and look forward to makes it easy.
Rosanne Wilkinson PA-C, AT, CNC, is a Health and Wellness Coach, Physician Assistant- Certified, Certified Nutrition Coach from Washington Township. [email protected]