A Fashionista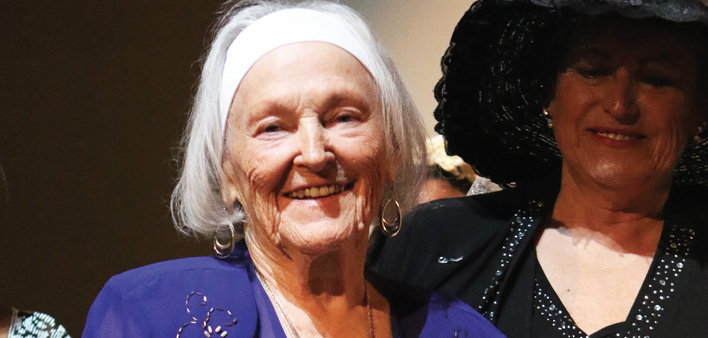 By Tracey Moro/Photography by Anne Nicolazzo
She never intended to become a fashionista but that is what Jinny (Virginia) Curatolo has been known as over the years, a vintage fashion first lady who at age 93 knows more about the last 150 years of fashion than anyone else around. And, she has the closets to prove it.
In 1954 Jinny along with her husband and five children moved to Mount Clemens where she quickly immersed herself in the community. As the wife of a young doctor, Jinny was asked to join the Hospital Auxiliary. Her husband, Dr. Victor Curatola, a doctor with St. Joseph's Hospital, would later be instrumental in creating the Radiology department. Within a few years Jinny was president of the Auxiliary and needed to come up with a special program to bring in members. When she noticed some neighborhood children playing in some vintage clothing the idea came to her to have a vintage fashion show. Little did she know that first fashion show would lead her to a lifetime of shows and a passion for vintage clothing. Her collection, made up of her own personal clothing, family members' and many donations from local families, is quite impressive and worthy of being shown. The pieces date back as far as the 1880s up until the 1980s. From wool bathing suits from the 1920s to poodle skirts to wedding dresses, her collection is quite extensive and even includes accessories.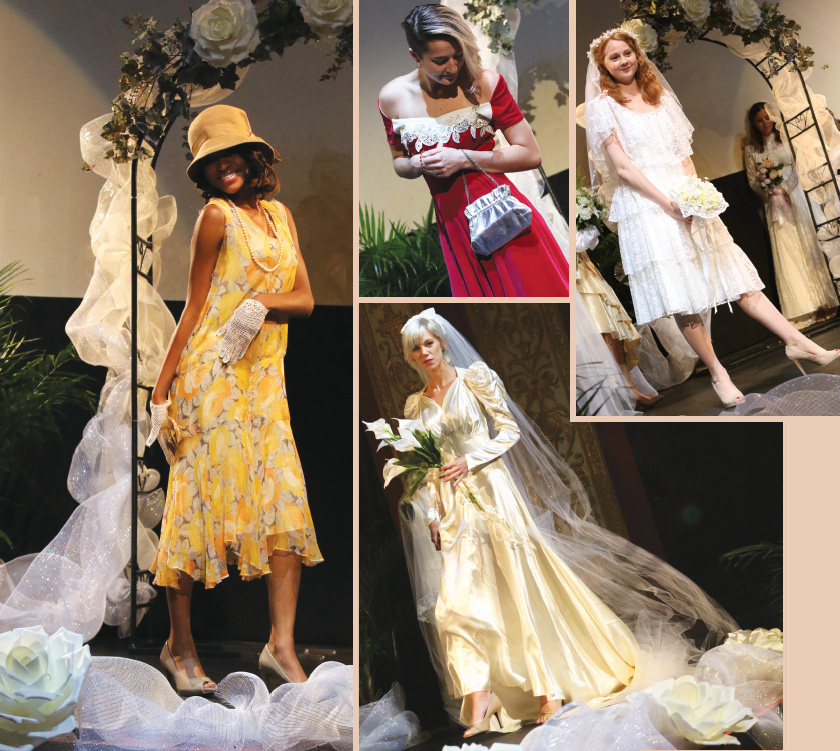 In her final fashion show this past July, commemorating 200 years for Mount Clemens, Jinny had her largest show yet with 17 models wearing more than 60 fashions from decades past. All of her fashion shows have been charity events. Many of the models in her final show have modeled for her over the years. "For quite a few years I had 10 women, some my daughters, so normally I would ask someone from the organization the show was for to be a model," Jinny commented. Jinny's daughter KC, helps her mom to keep the collection in order. With garments this fragile they need to be stored carefully. The collection has taken over several closets and even a couple of bedrooms. KC also keeps notes on each fashion piece. "For each outfit we have a description of the garment. At the show my mom explains where someone would wear the outfit and gives some facts about the time period," said KC.
Going through the collection, Jinny claims every other piece as her favorite. She notes the detail of crochet and embroidery and the use of slips, some long, some short and a few with rings. She tells stories about wedding dresses worn years ago by local brides where the bride's daughter would be at the fashion show and the model wearing her mom's dress would take her a bouquet. Another story includes some undergarments that were too beautiful to sleep in. They were worn by her mother-in-law who made them herself for her wedding night and later brought them to America in her trunk from Sicily. Jinny's passion for her collection can be seen in her blue eyes as her excitement with each piece grows.
The fashion shows take a lot of time, fitting models to garments, matching accessories and putting together the monologue. "Life was different years ago. Someone would invite you over and you would get dressed up. Life was very social," said Jinny referring to why the clothes were so well made and beautiful.
For 60 plus years Jinny has been out in the community of Mount Clemens always giving back. She has received Appreciation awards from the Macomb County Historical Society in 1980 and 1988. In 1987 she was presented the Michigan First Lady Award, by Paula Blanchard, acknowledged by Barbara Bush for her work with the United Way Foundation. She received the Medallion Ball Award in 1990 (she was co chairwoman in 1960 and a volunteer for many years) and she was presented the Governor's Honor Roll Honoree in 1991 from John Engler.
"Our family was busy growing up. Mom took us camping, we went skiing all over, but she always made time for the charities and having fashion shows. She was always giving back," KC said.