A Brew Crawl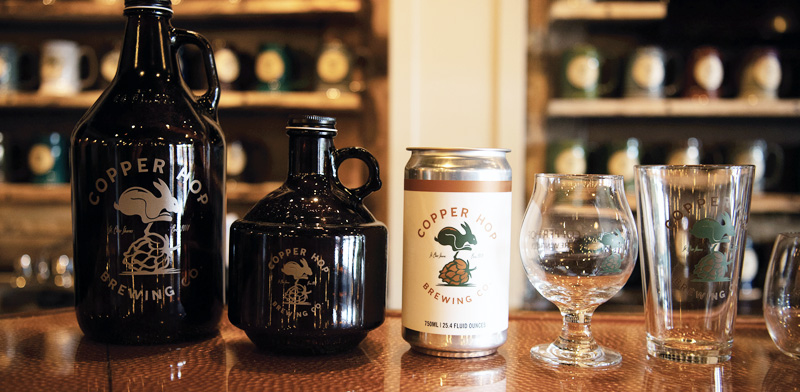 By Nick Lico / Photography by Mike Ferdinande
This year's Oktoberfest in Germany, the biggest beer festival in the world, has been cancelled due to the pandemic, but that doesn't mean we can't enjoy a cold, refreshing glass of beer, brewed at one of the dozen microbreweries in our own county.
If you're going to do a brew crawl you might as well start in St. Clair Shores, where you can visit several pubs within walking, or maybe biking distance. Starting in the Shores' downtown near 9 Mile and Mack is Copper Hop Brewing Company, a recent addition to the St. Clair Shores brewery list. It is another example of friends – Ryan Balicki, Jeremy Lewis and Shaun Koltuniak – turning a passion into a business.
"Jeremy used to brew his own beer. After a couple of years of drinking it, I said, 'We should start our own brewery,'" Balicki said.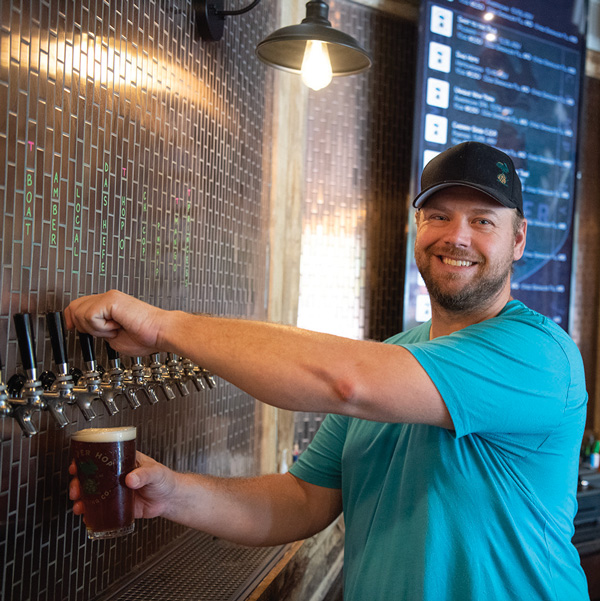 Open since last December, Copper Hop offers 12 total taps and features a mix of pale ale, IPA, German-style Hefeweizen and cream ale. Cider and wine are also available. "We built the brewery around a warm, welcoming atmosphere featuring reclaimed barn wood and copper. We are in the process of trying to expand to a second outdoor patio, allowing us to accommodate nearly 50 patrons while still maintaining the social distancing requirements," he said.
Down the road and around the corner you can still find Baffin Brewery. Owners and friends Joe Dowd, Joe VanderMarliere and Evan Feringa came up with the idea of making their own beer while attending MSU back in 2010.
"We started getting into the idea of making beer after making our first beer kit, which was made using our apartment stove," Dowd said. "After brewing at home for about six years, we decided to open up our own brewery."
Located on the Nautical Mile, Baffin likes to have fun with its beer names. Current offerings include Baffin Bob Marley, Baffin Roast Malone and Baffin Macho Man Shandy Savage. "We think having goofy names creates a fun atmosphere where we try not to take ourselves too seriously because making beer is the best job on earth," Dowd said.
Come next Fat Tuesday, be sure to try Baffin's Paczki Stout; it's brewed with over 150 real paczki that are squished up and added to the mash.
Heading back south you find Jamex Brewing Company at the very edge of St. Clair Shores. Open for the past three years, Jamex Brewing Company is the brainchild of husband-and-wife team, Jeff and Kat Kaye. The name is a combination of their children's names: James and Alexander.
"We love beer," Kat explained. "My husband was a homebrewer for some time and we decided to turn a hobby into a full-time business." She explained that Jamex specializes in a constantly rotating beer menu.
"We have a few staples that keep returning and almost always have something new on the board every time our customers visit us, from ales to lagers to sours," she said. Offerings are available via online ordering. Beer can be delivered within a 10-mile radius of the establishment.
"We pride ourselves on being a family oriented, local, friendly and fun place. We love our beer and take a lot of pride in what we put out there. We know a lot of our customers by name," Kat said.
While in the Shores you may want to check out the new Dragon's Landing, which opened at the end of the 2019 by our friends at Dragonmead. This second tap room for the Warren-based Dragonmead offers indoor and outdoor seating.
Heading north to Armada, in the midst of apple orchards, we crawl over to Blake's Brewing. Yes, Blake's brews beer.
"Beer production was prompted by demand at our tasting room for a high-quality craft beer that was affordable yet well-crafted – just like our ciders," said Chelsea Iadipaolo, Blake's director of brand development.
Blake's Brewing offers a wide range of beers to accommodate various tastes. "Back 40 is our light lager that appeals to a crowd just dipping their toes into the craft beer world. It's made with fruit grown on our property, including raspberries and blackberries," she added. Also available are Blackberry Sour and MI Haze, an IPA brewed with Michigan hops.
"Our most popular offering has been our Donut Stout. We literally dump hundreds of pounds of fresh cider mill donuts into the mash," Iadipaolo said. Cinnamon, Raspberry and Strawberry Donut beers are available. The brewery is also working on taking its most popular cider, Triple Jam – a cider brewed with blackberries, strawberries and raspberries – and turning it into a Berliner Weiss-style sour beer.
The beers are available at Blake's Tasting Room in Armada and at the newly renovated greenhouse in Almont.
Heading southwest to Washington Township we don't want to leave out our friends at Brown Iron Brewhouse. For the fifth consecutive year, it has been named "Best Great American Beer Bar in Michigan 2020" by CraftBeer.com. The brewery is quick to acknowledge its customers for this award.
"We are so grateful and thankful for the customers we have. We hope to always provide great beer, knowledgeable service and wonderful food," said Patti Eisenbraun, manager.
While the pandemic has curtailed the events and parties for which Brown Iron Brewhouse has become popular, it hasn't diminished other aspects of this popular Washington Township establishment, including opening a second location in Royal Oak.
"We continue to make amazing small batch brews, including our very highly rated 'Rage Against Series.' We continue to offer great scratch made food and have the highest ratings from our gluten-free customers," she said. "For our customers' convenience, we offer online reservations for indoor dining and patio reservations can be made by calling our phone number."