A 100-Year Shoreline Celebration – 1953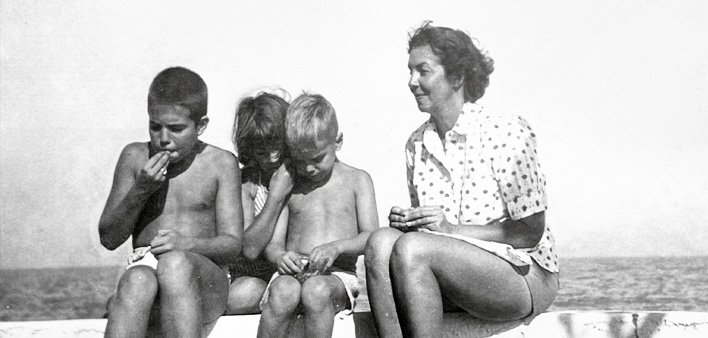 By Tracey Moro
For one hundred years a small tight-knit neighborhood in St. Clair Shores, nestled along the shoreline of Lake St. Clair, has sat quietly with approximately 190 homes, a private neighborhood association and 100- years worth of family memories.
The land was first known to be owned by James Abbot, a family business owner who immigrated to Detroit in 1768. He owned land holdings on the shore from about Nine Mile to Frazho Road. When he passed, his family managed the land. Eventually his children sold to one brother, James Abbot Jr., who years later began selling plots. In 1922 after most the farmland was pushed out, 231 lots were set up and the Articles of Incorporation for the Eagle Pointe Subdivision were approved. Today 189 homes line four streets, which dead-end to a private park with 970 feet of shoreline for Eagle Pointe residents to enjoy.
Originally the entrance off Jefferson Avenue went over the rail tracks of the Detroit Interurban Railway, which ran from Detroit to Mount Clemens until 1927. Within five years, brick pillars were installed, along with a connecting wrought iron fence along Jefferson. Soon roads were paved; however, they were lower than Jefferson-resulting in occasional flooding concerns during years experiencing high lake water levels, notably in 1929, '52, '57, '73 and '86. The Army Corp of Engineers damned seven local canals in 1986 and installed a five-foot-high crib dike along the shoreline, which was removed years later. A newer seawall with an elevated berm was later installed preventing flooding since the 1980s.
Large families occupied modest homes within the narrow streets, becoming more than just neighbors – many lifetime friends. In the late 1930s they began having neighborhood spring dances at Blossom Heath Inn. Families would dress festively for the occasion and would plan their own entertainment with the men and women performing skits. It was in 1946 that Roy Vorhees Jr. and his wife Marjorie, along with their first child, two-year-old Roy 111, moved into a two story home across from the park.
Going across the street to the park area was a daily occurrence for the Vorhees family, along with many Eagle Pointe residents. Families would swim and picnic in their private park area all summer long. The photo above was taken in July of 1953. Marjorie Vorhees is seen sitting on the seawall in the private park with three of her children, (left to right) Roy 11, 9, Linda 6, and Randy 3, probably after a long day of swimming and picnicking on a hot summer day.
The Vorhees enjoyed 13 years living in the 2,000-square-foot bungalow while growing their family. After the births of fi ve more children, they moved out of Eagle Pointe in 1959—finding larger accommodations out of the city.
"I had such great memories of living here as a child that after college my wife and I moved here in 1972 to raise our family," said Roy Vorhees 111, 78, who still lives in Eagle Pointe today with his wife of 55 years. "We raised our two children across the street from my childhood home and enjoyed many neighborhood activities that were started in the '60s, including an annual breakfast and fishing derby, kids' campouts, bicycle parades, bonfires, Easter egg hunts, and movie nights in the park."
Roy isn't the only resident to return to raise his family. "At last count there are 17 residents who grew up in Eagle Pointe and thought enough of the community, its waterfront, and the activities that we returned. That's not counting a dozen or so others who had done likewise but are no longer with us," said Vorhees.
Eagle Pointe residents will celebrate their centennial anniversary with summer monthly events, including a block party, children's fishing derby and a speakeasy prohibition party.
For more information eaglepointescs.com.