5 Outdoor Places for Springtime Fun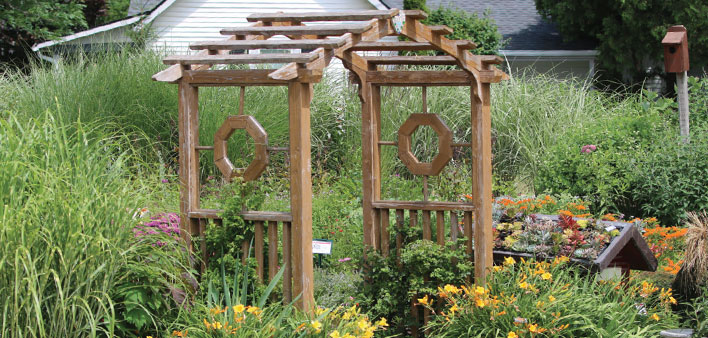 By Tracey Moro/Photography by Anne Nicolazzo
Hearing the chirping of birds and feeling the warmth of the sun are just a couple reasons why we love getting outside, especially as our days get warmer and longer in the spring. Add the newly formed buds on the trees and the long-forgotten flowers popping through the soggy ground and you've got a list of reasons to go outside. Now you just need a list of the best places to go and enjoy the outdoors. Since everyone's idea of a fun time outside is different, we came up with a versatile list of places to go outside – with some ideas of what to do when you get there, as well.
April Millsap Memorial Garden, Village of Armada
Located at the corner of Fulton and Depot roads alongside the Macomb Orchard Trail is a wonderful remembrance garden. Designed with drought plants and colorful flowers to attract pollinators, the garden includes extras like a Little Library, a beautiful arbor, benches and even a bell to ring. It was created as a healing sanctuary for April's family, friends and the local community. It's also a resting place for hikers and bikers on the trail. There's plenty to enjoy, including a variety of annuals, perennials, plants and trees that in the spring you can literally watch come back to life while you rest in tranquility. The garden was recently awarded a $500 grant from Keep Michigan Beautiful Inc. for upkeep. It also is a certified Monarch Waystation, which means the garden is an ideal butterfly habitat. "We are working with an Eagle Scout who has developed plans to build us a garden shed this spring," said Julie Risch, project coordinator. "The shed will be used for tools and supplies for our volunteers." Those looking to be volunteers to adopt garden sections and assist in garden upkeep can email [email protected]
McKinely Barrier Free Park, Fraser
For those of you with small children going to the park is top on your list on a warm, sunny day. The Mckinley Barrier Free Park, located in Fraser near Grove Street, is perfect for children and adults of all abilities. The 15-acre park is continually developing. The most recent addition is the sensory garden near the back of the park, complete with some new totem poles outlining a walking path. Raised garden beds along with a labyrinth path and flowers will be added in the future. A Global Motion Climber was built last spring. The Bradford Pear trees during their bloom are quite a site to see and smell. There's a "Walk and Roll" path, a pavilion, a comfort station, the toddler sand lot, benches, play structures, and more. Although everyone can enjoy the park, it is a special place since it is all accessible by children and adults with special challenges. The park also incorporates educational and sensory experiences that can be enjoyed by all.
"We have a new art installation from a Fraser First Booster Club artist coming soon, Troll doors and fairy doors are planned for the wooded area near the playground," said Vaina Apps, founder and executive board member. "We will be installing a Sand Activity Board for our Sandy's Sand Lot (named and sponsored by our late Vice President Sandy Caloia). The Sand Activity Board is a wonderful addition, geared for all children but especially beneficial to kids with autism because of the sensory play. This awesome Sand Activity Board was built by our Boy Scout Troop 1402 Scouts David and Matthew Olivier. We are always excited and honored to work with the Scouts." The board is also hoping to meet with Habitat for Humanity Woman who Build regarding the raised gardens. Also this spring watch for the addition of outdoor music instruments to the park.
Fishing on Lake St Clair
We are lucky to have a world class fishing destination of Lake St. Clair. With 430 square miles of shoreline, you would think shore fishing destinations would be abundant. But that's not true. With so much privatized access and marinas, many eager anglers must have access to a boat or search within the limited shore access points. Our outdoor informant Danny Sawicki, of St. Clair Shores, has some suggestions that have produced bluegills, perch, pumkinseed, walleye and pike. "The Blossom Heath pier in St. Clair Shores is a well known destination for shore fishing and to launch your boat," said Sawicki. "At 11 Mile Road, behind the library, can also be good. And in the spring, check out the DNR ramp near Selfridge. Good luck, everybody!"
Tomlinson Arboretum, Clinton Township
A gravel bicycle/foot path meanders through the 24 acres of native trees, shrubs and perennials of the Tomlinson Arboretum. This quiet, narrow park is right off 18 Mile Road in Clinton Township and spans from just east of Garfield all the way to Romeo Plank Road. The collection of oak, sugar maple, pine and tulip trees increases each year and creates a spectacular breeding ground for dozens of native birds. At the east entrance there is a rain garden with more than 38 native species growing. If you walk slowly or sit on one of the benches you will be able to see and hear many different types of birds. Some have even seen eagles overhead. One hundred and fifteen bird species have been spotted as of our printing including favorites like the blue-headed vireo, the veery or the bobolink seen here eating dandelion seeds and the Baltimore oriole. Both seen, spotted and photographed by Barb Baldinger. "The tree pictured is an amelanchier and is a memorial to my parents, Andy and Lucille Baldinger," said Baldinger.
Youngblood Vineyard
Come spring there might not be much to see on the vines yet at our famed Youngblood Vineyard but springtime means the wine from last season is just about ready to be bottled and celebrated. "We are bottling mid April and plan to start tiny goat yoga back up whenever we have nice weekends," said Jessica Youngblood. She also explained we should watch for new construction of a huge expansion to the outdoor pavilion, including a new wood-fired oven. "We will still be a 100 percent outdoor facility like the past two years, just additional pavilions, new deck, new restrooms and wedding venue." Each year the vineyard has grown and developed more, keeping the patron in mind. Last year they offered intimate outdoor dining experiences in the vineyard that were a huge hit, some themed and others very small, but all with Youngblood wine. With the addition of private events to their lineup, the vineyard has quickly created itself as a unique venue close to home. Youngblood's 25-acre farm complete with 26.2 miles of vines along with goats, rabbits and chickens gives the whole family something to enjoy any day of the week. in downtown Mount Clemens.