25 Things You May Not Know About Macomb County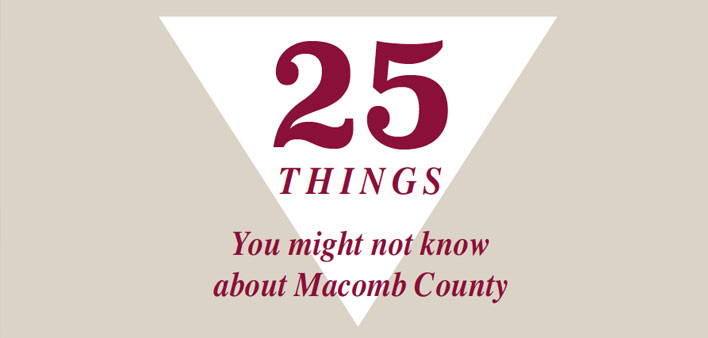 Macomb Now Magazine is celebrating with this 25th Silver Edition. For 24 editions, quarterly since 2010, we have been bringing you interesting stories on your neighbors, your friends and the businesses and communities surrounding you. When reflecting on these past 24 editions of Macomb Now Magazine we considered going back to look at the different stories we have written. But the one thing people say most about our magazine is that they love it because they learn things about the county they didn't know. So keeping with that theme, we decided to come up with 25 things you might not know about the great place we live, work and play. We reached out to some great sources and found things that even we didn't know about. Deborah Larsen from the Mount Clemens Library shared some of her award-winning one minute videos about Mount Clemens and Macomb County. The Macomb County Department of Planning & Economic Development also helped us to gather some interesting facts too. And, our own historian Denis LeDuc, dug up some great facts. We are sure you will be surprised, interested and will enjoy our 25 things about Macomb County. Find them placed throughout this magazine and let us know your favorites.

The Macomb County Building's Faces Have Meaning When county officials were planning to replace the old courthouse with the Macomb County Building in 1931, they wanted the exterior ornamentation on the new building to pay tribute to Macomb County's heritage and the nearby presence of Selfridge Field. Accordingly, the architect commissioned Louis Sielaff of Detroit to create the models for the eight stone faces that have kept watch from the top of the structure ever since. The faces – a pair on each side of the building – represent a soldier, sailor, marine and airman, as well as a Native American and Revolutionary War patriot.
---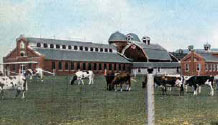 Macomb Produced Sugar and Milk as Part of Our Commercial Agriculture Small family farms were the backbone of Macomb's economy for generations, but the county also boasted some large agricultural operations. Many farmers grew sugar beets in support of the Mount Clemens Sugar Company factory, which produced more sugar in the early 20th century than any other sugar mill in Michigan. In Clinton Township, the Detroit Creamery Company kept a herd of 900 prized cattle on its farm along Gratiot Avenue. At its peak, the creamery farm produced more than 5,000 quarts of milk per day for the Detroit area market.
---

The Moravian Settlement Was First To Call Macomb Home The first road built by non-native settlers into the interior of the Michigan territory was laid out by Moravian missionaries who established a small colony along the Clinton River in 1782. The tiny religious community in what is now known as Clinton Township had about 140 inhabitants and also built one of the first Protestant houses of worship in Michigan. The road they built was called the Moravian Trail, and we know it today as Moravian Drive. In 1913, the Daughters of the American Revolution dedicated a monument – now located in Clinton Grove Cemetery – to honor the memory of the courageous little band of missionaries. #1, 2 and 3 Excerpted by Deborah J. Larsen from the award-winning local history video series "A Minute of Your Time," co-produced by Macomb Cable Network and Mount Clemens Public Library. Visit mtclib.org and click on the "A Minute of Your Time" logo to view more local history stories.
---


Mineral Baths Weren't Just in Mount Clemens Most people know Mount Clemens was once internationally famous for its healing mineral baths, but it was not the only Macomb County community to offer baths. Mount Clemens opened its first bath house in 1873, and quickly grew to offer 11 bath houses and dozens of hotels. Meanwhile, in New Baltimore, a bath house associated with the Chesterfield Hotel advertised the "same waters as at Mount Clemens." According to local lore, however, proprietor Charles Meldrum shut down the New Baltimore well and bath house to eliminate competition with the Fountain Bath House – which he also owned – in Mount Clemens. ~ Excerpted by Deborah J. Larsen from the award-winning local history video series "A Minute of Your Time," co-produced by Macomb Cable Network and Mount Clemens Public Library. Visit mtclib.org and click on the "A Minute of Your Time" logo to view more local history stories.
---


Horse Racing Originally Took Place at the Mount Clemens Race Track. A century ago, a group of businessmen laid out a harness racing track on property near today's I-94 and North River Road. The club raced horses at the location for about 10 years until the track fell into disrepair. In 1951, new owners Clayton and Ruth Stubbs improved the old track, built a grandstand and opened the Mount Clemens Race Track on the site. The track was a popular and well-attended stock car racing venue for the next 35 years, until it succumbed to economic pressure and closed in 1985. Gibraltar Trade Center was later built on the site. ~ Excerpted by Deborah J. Larsen from the award-winning local history video series "A Minute of Your Time," co-produced by Macomb Cable Network and Mount Clemens Public Library. Visit mtclib.org and click on the "A Minute of Your Time" logo to view more local history stories.
---

Macomb is a Leader in the Cyber Security Industry Macomb County has several industries growing faster than the national average including Manufacturing, Advanced Manufacturing, Health Care and Social Assistance, and Retail. However, IT and Cyber Security are key industries on the fast track with jobs in these industries increasing by more than 80 percent in just the last year. This growth is attributable to several factors including the fact that a publicly accessible "virtual sandbox" is available at the Velocity Hub of the Michigan Cyber Range in Sterling Heights. MADCAT (Michigan Automotive and Defense Cyber Assurance Team) is a grassroots effort formed by leaders from government, education, nonprofit and private sectors in 2014 to address the growing threat of cyber security breaches to our region's primary industries. MADCAT's purpose is to establish Macomb County as a cyber security center of excellence and attract businesses and institutions that support the development, growth and retention of our talent pool. ~ Macomb County Department of Planning & Economic Development
---

Macomb County is a world fishing capital To all of us who regularly get out on Lake St. Clair to fish, both during warm months and on the ice, we really don't know how good we got it when it comes to fishing. Noted fisherman, Kevin Van Dam, named Lake St. Clair "the greatest smallmouth bass fishing lake on earth." In fact, Lake St. Clair is being recognized as one of the nation's best and most unique recreational fisheries. Fisheries are represented by providing food, economic impact, recreational activity, and an indicator of a healthy ecosystem. The 2002- 2005 State of Michigan Creel census of fish in Lake St. Clair and it's adjoining Great Lakes waters accounts for 2.9 million angler hours. The economic activity generated by the St. Clair system fishery in 2004 accounted for $36 million in the Michigan waters only. Although there are many varieties of fish four account for the majority of the angling including Yellow Perch, Smallmouth Bass, Muskie and Walleye. ~ Macomb County Department of Planning & Economic Development
---

Macomb is Home to Many Famous Notable Stars Everyone knows singer and rapper Kid Rock, born Robert Ritchie, grew up in Romeo. Having sold tens of millions of albums worldwide, the Romeo kid is also known for his charitable side. Macomb Now featured him on the cover of the Winter 2013 edition. Macomb also lays claim to rockers Alice Cooper (East Detroit), Eminem (Warren), Uncle Kracker (Harrison Township), Mitch Ryder (Roseville)and Jeff Gutt (Clinton Township). Other musicians include Justin Jeffre (Mount Clemens), Adrienne Frantz (Mount Clemens), Faye Grant (St. Clair Shores), Fred Sonic Smith (St. Clair Shores), Kathleen Rose Perkins (New Baltimore) and Crystal Reed (Roseville). Other notable greats born here include comedian Dave Coulier (St. Clair Shores), and Dean Cain (Mount Clemens) – best known for his role of Superman. Some not -so-well known include Joe Cada, professional poker player (Shelby Township), Dick Enberg, sportscaster (Armada), Butch Hartman, cartoon creator – The Fairly Odd Parents (New Baltimore), Ian Hornak, artist (Mount Clemens). And truly living with the stars is retired Astronaut Captain J.M. Linenger, M.D., M.S.S.M., M.P.H., PH.D., who graduated from East Detroit High School in 1973.
---

Until recently, Macomb County had a city with fewer than 100 residents One of Macomb's smallest municipalities has less that 100 residents. Formerly known as Lake Township, this community is .6 miles square and is located in the southern most portion of Macomb County bordering St. Clair Shores and Grosse Pointe. In February of 2009, the residents of the village of Grosse Pointe Shores voted to incorporate as a city, effectively disestablishing Lake Township and Grosse Pointe Township and formed the "Village of Grosse Pointe Shores – a Michigan City." The community is still partially in Macomb County and includes the Edsel and Eleanor Ford House some of the Grosse Pointe Woods park. – Macomb County Department of Planning & Economic Development
---

People Throughout the Nation Smelled Our Roses Often called the Rose Capital, Mount Clemens was one of the centers of the rose growing industry in the United States. One of the most successful was the Weiss family's Mount Clemens Rose Gardens, with a half a million rose plants in production at one time. In their heyday, they ranked eighth in production in the country, producing more than six million roses annually, including supplying the White House during the Gerald Ford administration. By the time they closed in 1999, they had produced well over 300 million roses. During WWII, the Weiss family also rescued dozens of Japanese-Americans from internment camps and brought them to live and work at the Rose Gardens. At a time when our country chose to segregate people because of how they looked, the citizens of this community welcomed them with open arms. ~ Contributed by Lynn Anderson
---

Shelby Township's River Bends Park Has a Diverse History Originally called Spring Hill Farm, the property was owned by Peter Lerich. The farmhouse was marked by a massive cedar known as the "Beacon Tree." In the pre-Civil War era, Lerich was a conductor on the underground railroad. Moving only by night, runaway slaves received food and safe shelter from the Lerich family until they could resume their perilous journey north to Canada and freedom. In 1938 Spring Hill Farm was bought by heavyweight boxing champion Joe Louis. Known as the great "Brown Bomber," Louis used the farm as a training camp and equestrian center. In 1973 the house at Spring Hill Farm caught on fire. The fire burned quickly and the house was totally lost.
---

Alcohol Funneling During Prohibition Era Happened on the Shores of Lake St. Clair As Denis LeDuc started to show us in his Macomb Then column in the 2014 Winter Edition of Macomb Now Magazine, Mount Clemens was just one place that contributed to the illegal alcohol consumption during the prohibition. In fact, St. Clair Shores and many other spots along the shores of Lake St. Clair and the Detroit River, with easy access to Canada, became major alcohol transfer areas. Known as the Windsor-Detroit Funnel, when the rivers and lakes froze in the winter, smugglers simply drove across or skated across dragging sleds full of whiskey behind. Detroit was the first major U.S. city to ban the sale of alcohol in public establishments. By 1918, the state was completely dry, giving it a one year lead when Prohibition became the law of the land in 1919. That was enough time for gangsters and bootleggers to build a network on the shores for the transfer of booze from Windsor to Detroit. This veritable river of booze led to a huge increase in the consumption of alcohol. Although individual Canadian provinces, including Ontario, had outlawed the retail sale of liquor, the Canadian government approved and licensed distilleries and breweries to manufacture and distribute alcohol "for export only." A smugglers' paradise existed, with less than a mile distance between the two countries in some areas, and miles of shore with thousands of coves and hiding places to boot. Along with Lake Erie, Lake St. Clair and the St. Clair River, these waterways carried an incredible 75 percent of the liquor supplied to the U.S. during Prohibition.
---

People Roam Through Tunnels Under Mount Clemens Some old service passages beneath the streets of Mount Clemens have fired speculation and local legend for decades. The first was built in 1890, when the Medea Hotel owners asked for permission to build an arched tunnel under the street to connect their pump house and bath house. Soon, St. Joseph Sanitarium on North Avenue and the Colonial on South Gratiot did likewise. In the years since, stories have circulated about the use of the tunnels by bootleggers and other shady characters during the Prohibition era. Today tunnels are still being used to connect the county buildings along Main Street. ~ Excerpted by Deborah J. Larsen from the award-winning local history video series "A Minute of Your Time," co-produced by Macomb Cable Network and Mount Clemens Public Library. Visit mtclib.org and click on the "A Minute of Your Time" logo to view more local history stories.
---

Macomb County Raises Athletes to be Winners Many parents hope their son or daughter will grow up to be a professional athlete, or an Olympic star but most are just dreaming. There are some Macomb County parents who did end up raising some winners. In baseball we claim Pat Hentgen of Fraser, Jon Smoltz of Warren and Ernie Whitt of Roseville. The National Football League includes players John DiGiorgio of Shelby Township, Ron Kramer of Eastpointe, Craig Krenzel and Frank Zombo of Sterling Heights, Jim Corgi of Fraser, and Kyle Cook of Macomb Township, along with George Herbert Allen of St. Clair Shores who is an NFL coach. It's not surprising we also have race car drivers Johnny White of Warren, Shirley Muldowney of Armada, and Bryan Herta of Warren. For basketball Michele VanGorp of Warren is in the NBA. John Mazza of Shelby Township is a PBA bowler. And, Macomb Now Magazine also featured Olympic speed skater Kelly Gunther of Clinton Township in the 2014 Spring Edition. Let's not forget Ron Sherry North American Champion ice boater and five time World Champion, featured in 2016 Winter Edition.
---

Macomb has a Statue of President John F. Kennedy In 1960, then U.S. Senator from Massachusetts, John F. Kennedy campaigned for President and delivered an important speech in downtown Mount Clemens. A statue is placed near the county building in downtown Mount Clemens where he spoke. Our first President born in the 20th century, J.F.K., inspired a generation. In his 1961 inaugural address he called upon us to "ask not what your country can do for you, but what you can do for your country." On the steps of the Student Union in Ann Arbor, he outlined his vision of the Peace Corps. He was young, energetic, articulate, and glamorous. Only 46 and in the prime of his life and career, he was suddenly taken from us on November 22, 1963. If you are of a certain age, you know exactly where you were at the moment you heard that tragic news from Dallas. ~ Denis LeDuc
---

We Don't Need GPS Here With today's technology it is easy to locate someone's address lickety-split. However, there is an old formula that works with a few exceptions, where one can determine which mile road an address is between on major north/south roads. The formula doesn't work for east/west roads, or sub divisions. [(first two numbers of the address)-5]/2. Example: 34879 Gratiot Avenue [(34-5)/2]= 14.5 which indicates the address is between 14 Mile and 15 Mile Roads. In the early days of Detroit area house numbering, surveyors calculated position on the grid of mile roads to define addresses. The resulting system, adopted in 1921 and referred to as the Detroit Edison system, generally assigned 2,000 addresses to each mile. Addresses in the Detroit area tend to be much higher than in other major cities with numbers in the 20,000s common. Once in Macomb County the highest addresses used in the Detroit system range 79000 to 80999, for north/south roads beyond 37 Mile Road in northern Macomb County, and from 81000 to the high 81900s in the portion of the city of Memphis. Even though many suburbs also use the Detroit system, there are several that instead use their own numbering systems, including Mount Clemens.
---


Selfridge Air Force Base Isn't Just for the Air Force While the Michigan Air National Guard is the largest unit at Selfridge Air National Guard Base, units from the Army, Navy, Marine Corps, Coast Guard and Customs & Border Protection Agency are all assigned to the base. In total, about 5,300 people are assigned to Selfridge, of whom roughly 3,330 are traditional National Guard or Reserve personnel, serving generally one weekend per month and two weeks of active duty per year. Beyond military training, local area police officers receive much of their hands-on driving training at Selfridge. The base provides Macomb Community College's Police Academy with space several times a year as well. The base is also home to the Selfridge Military Air Museum, featuring more than 30 vintage military aircraft and a wide variety of military memorabilia. Selfridge Field became a military air field on July 1, 1917 and will celebrate 100 years this year. For several years prior to 1917, the air field was operated by Henry B. Joy, an early automobile magnate. Joy Road in Mount Clemens is named in his honor. ~ Tech. Sgt. Daniel Heaton Selfridge Air National Guard Base
---

Macomb County had 13 Townships that later turned into our 26 communities In 1839, after Michigan became a state, Macomb County consisted of 13 townships, with fewer than 2,000 people old enough to vote. (The existing townships plus Sterling Township and Warren Township). At that time no independent cities existed but the township of Orange was a historical aberration. Located in the southeast corner of the county, Orange Township eventually became Erin Township which later evolved into the cities of East Detroit, Roseville and St. Clair Shores, in 1992, East Detroit changed its name to Eastpointe. Macomb County will celebrate 200 years in 2018.
---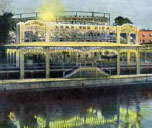 Macomb County Has Been Home to Four Amusement Parks If you have been reading Macomb Now Magazine regularly you may remember Denis LeDuc's Macomb Then column on the Jefferson Beach Amusement Park, published in the 2015 Summer Edition. Built in 1927 on Jefferson just north of Nine Mile, the Jefferson Beach Amusement Park boasted the world's longest roller coaster, a ferris wheel, carousel, arcade and dance pavilion. But St. Clair Shores wasn't the only place for roller coasters in our county. In 1909 Mount Clemens opened Leap The Dips, a 3,200-foot wooden roller coaster, which was intended to entertain the many folks who came for the bath minerals. The coaster was located on the east banks of the Clinton River in downtown Mount Clemens. In 1935, again on the Clinton River banks, the Utica Amusement Park opened mainly as a picnic area. Rides were added in the '40s. Many of us remember the park as the Riverland Amusement Park, which took that name in 1989. In 2004 the city of Sterling Heights rezoned the land and construction on an assisted living facility began. Today the only roller coaster can be found at C.J. Barrymore's in Clinton Township. Photo Credit: Mount Clemens Library
---

Macomb County has the #2 High School in Michigan and 12th in the Nation Due to the dedication of the staff and students, the International Academy of Macomb (IAM), located in Clinton Township, was recently ranked 12th by U.S. News and World Report as one of the best high schools in the nation. This top-rated Michigan public school offers a rigorous, student-centered, global education. The school serves 18 of the 21 districts in Macomb County and is the only International Baccalaureate accredited high school in the county that offers both the Middle Years Program (9th and 10th grade) and the Diploma Program (11th and 12th grades). You may have read the story on the IAM in the 2015 Spring Edition of Macomb Now Magazine. If not, you can still find the article online. ~ Jacqueline Conway, contributing writer and teacher at the IAM
---

Looking East We See Canada With 30 plus miles of shoreline along Lake St. Clair and more than 70 working marinas, 92 square miles of Macomb County is actually under water and one mile borders Canada, the rest borders St. Clair County. The lake is one of our greatest assets filled with world-class recreational opportunities. Here we have ample opportunities for swimming, boating, fishing, and many other ways to enjoy the water. Living and working on the lake, which connects us through waterways to the rest of the world, is a reality our residents get to enjoy. From neighborhood playgrounds to expansive parkland, there are more than 17,000 acres of recreational land/open space in Macomb County. Networks of hike/bike trails – including the 24-mile Macomb Orchard Trail – connect neighborhoods to parks, downtown districts and schools. Fourseason sports and educational programs are offered at three regional parks of the Huron Clinton Metropark Authority. Michiganowned Wetzel State Recreational Area offers 900 pristine acres for cross country skiing, hunting, snowmobiling, hiking, radio controlled flying and watchable wildlife. There are more than 30 spectacular golf courses in Macomb County, six public beaches, a tangle of cross-country ski trails, liveries where you can rent a canoe, kayak, horse or motorized bicycle as well as organizations that offer lessons ranging from windsurfing to skydiving. – Macomb County Department of Planning & Economic Development
---

There's More Than One Octagon House in Macomb County Washington Township is the only township in Macomb County that has an octagon house – in fact, it has two, the Loren Andrus House, featured in the Macomb Then column in 2013 Spring Edition, and the William Burt House, which is also an octagon house. William Austin Burt was an inventor, surveyor, legislator, and millwright who settled in Washington Township in the 1824. In his workshop in Washington, Burt constructed the first patented typewriter in 1829 and built the solar compass, which was patented in 1836. The solar compass was the prototype for those used today. He also built four homes for his family known as the Burt Chalets. His octagon house and wedding cake house both have the stackable look and are still standing today.
---

One of Macomb's Heros is Thomas Edison The prolific inventor of the light bulb, recorded music and motion pictures, and he has strong ties to the Mount Clemens railroad depot. It was at this Grand Trunk station that young Edison saved the stationmaster's three-year-old son from a runaway box car. So grateful was the stationmaster that he offered to teach Edison telegraphy. Already tinkering with chemical experiments and having built his own printing press, Edison's training as a telegraph operator spurred a new interest in electricity. Two of Edison's earliest inventions, the stock ticker and electric vote counter, were directly related to his early training as a telegraph operator, all because of what happened at the railroad depot. ~ Denis LeDuc
---

Hockey Town USA Began Here Hockey legend, Gordie Howe had his own Hockey School located on the corner of Allor and Harper in St. Clair Shores (SCS), just north of Kyte Monroe. The school was open during the '60s and '70s, and was known as the original Hockey Town USA. The city saw many a young hockey players flourish into professionals. Over the years SCS has seen thousands of kids participate in hockey and figure skating programs at SCS Civic Arena, including the newest and only minor league hockey team – the SCS Fighting Saints. Macomb County now has four indoor ice arenas with a total of 11 rinks and claims hockey greats including Dave Debol, Doug Weight, Steve Oleksy, Dan DeKeyser, Mark Wells, Shawn Chambers, Patrick Davis, Brian Felsner, Denny Felsner, Derian Hatcher, Kevin Hatcher, Matt Hunwick, Shawn Hunwick, Brad Jones, Chad LaRose, Dan Keczmer and Matt Taormina. The Lakeview Huskies 1975 and 1978 Hockey teams were recently added to the St. Clair Shores's Hall of Fame. The Metro Jets, a Junior A hockey team, is in their second season at Fraser Hockeyland and currently in first place in their league.
---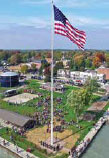 Michigan's Tallest American Flag Is Here Raised on October 15, 2016, our most recent cool fact about Macomb County happened just a few weeks ago. A new flag pole was erected at the foot of Lake St. Clair in the Walter & Mary Burke Park in downtown New Baltimore. The flag pole stands 160 feet tall. It has nearly 80 tons of concrete in a foundation seven feet in diameter by 30 feet deep. The pole marks the highest ever constructed at this time in Michigan. Three lights shine at 23,000 lumens each and a red solar navigational light at the top allows the 30 x 60 foot flag to be seen at night and be visible for several miles. The project was completed at a cost of $107,000 including no city, county or state tax dollars, thanks to the hard work of the New Baltimore Lions Club. They decided to make history on Lake St. Clair and replaced the old water tower torn down last year and create a new and wonderful boater's landmark.
Photo Credit: Vince Nestico